---
About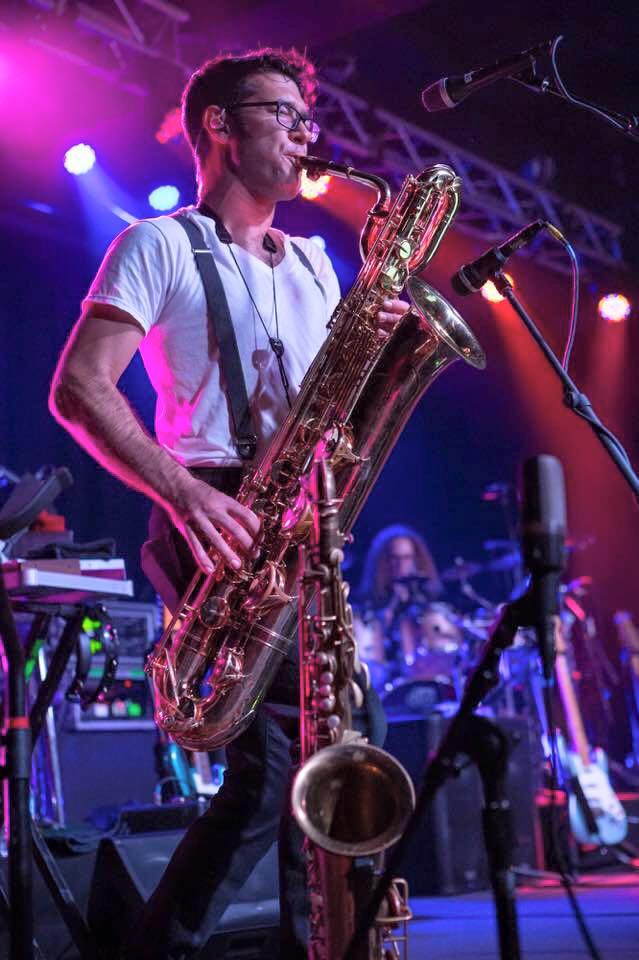 David Luther is a multi-instrumentalist, vocalist, composer, and arranger originally from the northern Michigan town of Traverse City, and a current resident of New York City. At four years old, he found himself in piano lessons, the beginning of what would become a lifelong involvement with music. After a brief affair with the violin, David picked up the saxophone at 11, which prevails today as his primary instrument. In addition to the saxophone, he sings, and plays keyboards, guitar, electric bass, flute and clarinet. He attended the University of Michigan in Ann Arbor, from which he graduated in 2002 with a BFA in Jazz Studies. The next excursion brought him to New York City, where the rent checks have disappeared for the last 13 years.
Last year, David recorded his first album of original music with a new project, Ivy Mike, which performs instrumentals drawing on old R&B, exotica, spaghetti westerns, and James Bond soundtracks. The album has been mastered, and will be released by summer of 2017.
In September of 2016, David joined Dweezil Zappa's band (formerly Zappa Plays Zappa) on lead baritone vocals, saxophones, and guitar, just in time for a 38-show fall tour of the U.S. and Canada. He welcomed and quickly stepped up to the challenge of singing and playing some of the most difficult music in rock n' roll. Suitable to his vocal rumblings, he greatly enjoys channeling the voice of Frank Zappa, and singing songs about dental floss, the perils of organized religion, questionable spiritual leaders, or the occasional enema. Several tours and assorted performances are already scheduled for 2017.
Since 2006, David has been a member of Meat Loaf's band, playing saxophone, keyboards, and acoustic guitar, as well as singing background vocals. He has performed with Meat Loaf on a number of world and U.S. tours, as well as a residency in Las Vegas (2013-14). A number of television appearances include The Today Show, Jimmy Kimmel Live, Lopez Tonight, Austin City Limits, and Dick Clark's New Year's Rockin' Eve. He is featured on Meat Loaf's last two records, Braver Than We Are (saxophones, organ, string arrangement and sequencing, 2016) and Hell In A Handbasket (saxophones, 2012), as well as the 3 Bats Live (2007) and Guilty Pleasure Tour Live From Sydney (2012) concert DVDs.
David has also toured occasionally with the Easy Star All-Stars, and appeared with Katy Perry on MTV Unplugged. Additionally, he has performed with such musicians as Bettye Lavette, Jimmy McGriff, Dr. Lonnie Smith, Reuben Wilson, The Temptations, Dennis Edwards, Clarence Clemmons, Johnnie Bassett, Al Hill, Laith Al-Saadi, and Chris Bergson. From 2011 to 2016, he played regularly with the house band at Sleep No More when in New York City.
A deep love for early rhythm n' blues, rock n' roll, and soul led David to put together The Stick-Ups in 2008, a repertory party band focusing on those aspects of said musics which terrified 50s housewives and led many a youngster to a discovery of their (and others') hips. Upon meeting singer/songwriter/guitarist Freddie Stevenson in the winter of 2009, he started writing songs and formed The Dirty Urchins with bassist Bennett Miller. He recorded, mixed, and produced the band's first record, Late As Usual. Singer/songwriter Julia Haltigan joined the band in 2010, after which they recorded and released Just In Time (EP) in 2011.
David's alter ego, Uncle Heavy, collects old 45 rpm records, DJs around New York City at dingy bars and exclusive parties, and releases the occasional podcast in a series entitled, appropriately, "Podcasts With Uncle Heavy."
---